Telltale played Cameo October 19th
The night started slowly, PBR and whiskey tends to make things move in slow motion. Pedals, cymbals and wires were laying lifeless on the stage floor. The band before had not been kind. Telltale seemed almost like a trauma unit, moving in after a strike. I slipped into the bar to grab one last beer and then slinked back to the show room at Cameo somewhat ambivalent. The lights never went up, the room was as dark as I'd left it, but when I returned Telltale had taken the stage and were screeching out the first seconds of their brutally honest set. I was floored. Jesus & Mary Chain +The Pixies + some ethereal noise is the only way I could properly describe the assault on my senses. The drummer didn't miss a beat while switching from shaker to stick and back, while the bassist sang Kim Deal-like harmonies with the lead singer. Feedback was ringing and rain was coming down in New York. The only thing I could think was... this is a band. A real band. It's so rare today that you go to a show and see an actual living and breathing incarnation of a true band. A group that not only plays music with each other, but is a group of people that believes in their music. Telltale is just that. I watched a group of four musicians who could not only play their instruments well together, but could feed off each others' energy to create a show that was worth the time and money invested. The bassist's vocals, while precariously under-volume, never missed a step with the lead, while the rhythm section carried out a syncopated current for the lead guitar to sink wave upon wave of feedback and distorted harmony into every song. When the last note was played and the last whale of distortion was finally sated, I walked out the carwash style door into the hallway to let my ears rest. While my eyes and ears throbbed and rang I thought to myself "this is what a rockshow was supposed to sound like." I said goodbye to the band and told them that I needed to rush home to write a review. they laughed in disbelief and said they'd played better shows... I believe them. But sitting at my computer right now, I don't think I wanted a better show. Seeing this band play in real time was more than enough for my senses, and now that CMJ is just at it's onset I find myself searching for just one more band that can do what Telltale just did. Perform.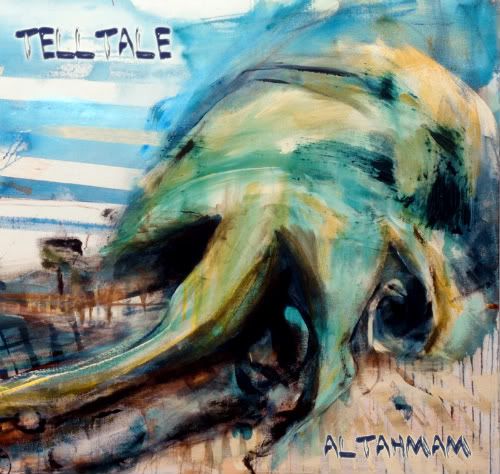 "Magazines" (live on WUSC) by Telltale
download mp3
(with permission)
Telltale on MySpace
Buy Telltale's upcoming record!!